About Us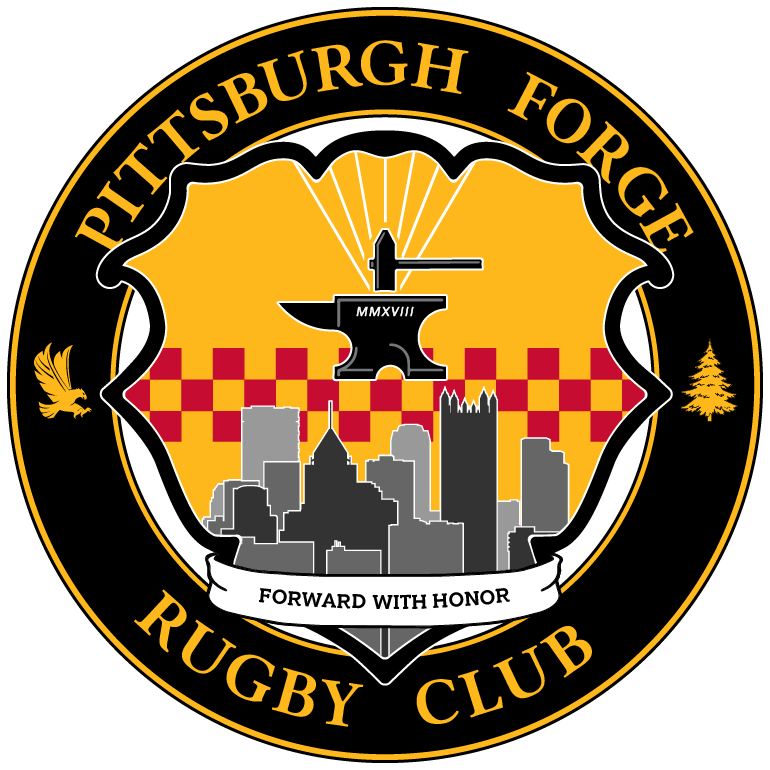 The Pittsburgh Forge Rugby club is a federally recognized, charitable 501(c)(3) organization whose purpose is to foster, promote, and advance amateur participation in the growth and development of Rugby Union. The Club encourages good sportsmanship and fair play while educating players of all ages in basic through advance skills while encouraging them to participate in local, regional, national and international competition.
The Pittsburgh Forge currently fields 3 Men's senior sides and 1 Women's senior side with plans to further expansion. The men currently participate competitively in the Midwest Competition Region (MCR) at the Division 1, 2, and 3 levels. Our women's side also plays competitively in the MCR at the Division 1 level.
In the Fall, all sides play league competition on Saturdays from late August through November in Western Pennsylvania, Western New York, Ohio, Michigan, Indiana, and Illinois . During the Spring, competition varies between friendly test matches, social tournaments or tours, and Select Side (Union All-Star) competition. In the Summer months of June and July, the Club runs Rugby 7's programming for area senior, collegiate and high school players. Our senior men compete in National Championship qualifiers and open tournaments while the women currently participate only in open tournaments.
In addition to senior level rugby, the Forge is dedicated to fostering and promoting rugby at the youth, high school and collegiate levels. Currently, many players and alumni serve the area rugby community by coaching and administrating community programs at various levels, administrating Unions both locally and regionally, and by refereeing. The Forge is also actively seeking to expand youth and high school rugby programming within the City of Pittsburgh and its suburbs in addition to holding programming that benefits existing clubs as well.
The Pittsburgh Forge Rugby Club is officially managed by its Board of Directors:
Bill Marnell, President & CEO
Holly Ramey, Treasurer & CFO
Jess Brown, Secretary & COO
Zach Seger, Director of Men's Rugby
Kiyomi Knox, Director of Women's Rugby
Robert Joseph, Director
Pierre Queiroz de Oliveira, Ph.D., J.D., Director
Ryan King, Director
Claire Preville, Director

Official Business Address:
Rugger's Pub
40 S 22nd Street
Pittsburgh, PA 15203
E-mail: club@pghrugby.com
Pennsylvania Corporation Entity Number: 6673264
IRS EIN: 82-4533705
---
BECOME PART OF THE FORGE
Membership shall be open to any person willing to contribute to the interests and goals of the Club and shall not be denied to any person due to age, race, religion, sex, disability, or national origin. All members agree to abide by the Club's Bylaws.
Members need not be active players, however all active players are members of the Club.
If you are interested in joining the Forge as a General Member, please contact the Club at club@pghrugby.com. Persons interested in joining the Club as an active player should complete this form: https://forms.gle/EqVQnYRUcjt75NYE7 and/or attend a training session.
Training sessions are held at various locations depending on the time of year. Facilities are currently being planned for summer and fall programming pending national, state or local shelter in place or social distancing ordinances.  Please check our Club Calendar for the most up to date training and competition schedule. Post training drinks are had at our pub, Rugger's Pub, located at 40 S 22nd Street, Pittsburgh, PA 15203.
---
HISTORY OF THE PITTSBURGH FORGE
The Pittsburgh Rugby Club established rugby in the City of Pittsburgh in 1964. Since that time, they've grown to be the largest club in the City of Pittsburgh, contending for a Division I National Championship in 1987 and most recently fielding two full sides.
In the 1990's, the Pittsburgh Rugby Club added a women's side, the Pittsburgh Angels. The Angels enjoyed tremendous success, competing for National titles each year throughout the late 2010's before winning back to back Division 2 National Championships in 2012 and 2014, and making the jump to Division 1 in 2015.
The Pittsburgh Highlanders were originally founded as the Westmoreland Highlanders in Latrobe, PA in 1983. In the late 2000's, the club was re-branded as the Pittsburgh Highlanders and founded a women's side, the Lady Highlanders. In recent years, the Highlanders enjoyed tremendous growth and success on the field, being a dominant force at the Division 3 level throughout the Midwest, but failing to reach USA Rugby National Championship playoffs.
In 2018, the leadership of the Pittsburgh Rugby Club met with the Pittsburgh Highlanders to spearhead a campaign that many in the Pittsburgh rugby community spoke about, but failed to act upon. The goal was to consolidate resources into one organization in an effort to create a premier men and women's rugby club with the capabilities to compete nationally at multiple levels while working cohesively on the betterment of the rugby community in and around Pittsburgh. Each club decided it was necessary to build off their current club heritages, maintaining key components from each club, but creating an all new entity: the Pittsburgh Forge Rugby Club.