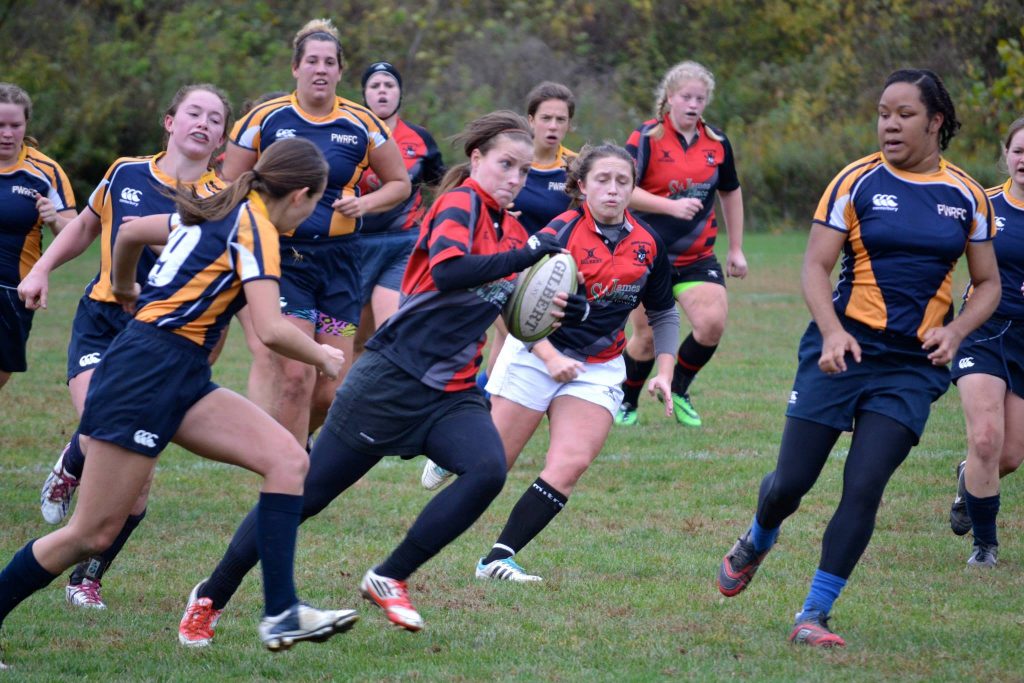 The second spotlight in our Member Spotlight Monday series is a hard-working rugby mom known for her fierce competitiveness on the field and from the sidelines – Brittany Marnell. Brittany, the wife of Club President Bill Marnell, remains a part-time player (especially summer 7's) while being a full-time mother of two and rugby coach.
Brittany obtained her undergraduate degree in Elementary Education 2011 and her Master's degree in Special Education in 2012 from California University of Pennsylvania. Brittany, from the South Hills of Pittsburgh, returned home and began teaching at a number of different area schools prior to landing a position Clairton Elementary School; there she teaches 1st Grade.
We were able to catch up with Brittany to chat about her rugby and coaching experiences…
Q. Can you give us a brief introduction and tell us about your playing history and experiences with Pittsburgh Rugby?
A. My name is Brittany Marnell. In addition to being a member of the Pittsburgh Forge Rugby Club, I am also the current Head Coach of California University of Pennsylvania Women's Rugby Club. I began playing rugby in 2007 for Cal U when I was a freshman in college. During my tenure there, which totaled five years in order to earn my Master's Degree, I played predominantly in the centers for several very talented teams. After graduation, I began playing for the Pittsburgh Highlander Women where I moved from the centers to flyhalf. After playing full-time with the Highlanders for a few years, I took the job as Head Coach of the Cal U Women.
Q. The transition from player to coach seems to be the natural progression for many as they continue their rugby careers. What motivated you to first make this jump?
A. As I played senior rugby, my husband and I decided we wanted to start having children and expand our family. This coincided with Cal U's women's coach, Jason Edsall, leaving to take a position on the eastern side of the state. I realized that with a growing family my opportunities to play would be fewer and farther between and what a better way to stay involved with, and give back to rugby, than to coach at my alma mater. It was important to me to remain involved with rugby in some way and this opportunity allowed me to do that while growing my family in Pittsburgh.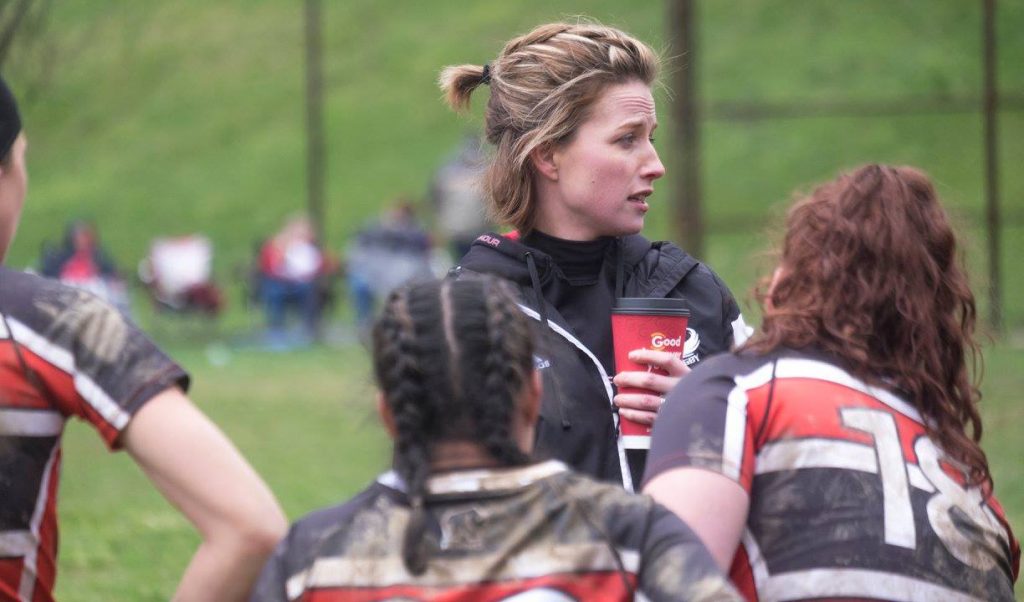 Q. One of the best things about the sport and community of rugby is that it has so much to offer beyond the outcome of each game. Can you tell us a little about the team(s) you currently coach and the messages you try to instill in your players?
A. During my tenure at Cal U, my girls have accomplished many things. On the field, we've earned berths to the NSCRO 7's National Championships four years in a row, a tremendous accomplishment. Additionally, this past season, the girls also won the ARU NSCRO 15's championship and we finished third in our region ranking 11th in the country at that level. This on the field success has coincided with tremendous growth off the field, as a club/ organization and my girls have grown as individuals and rugby players. One of the most important messages that I try to instill into all of my players is that rugby is so much more than just a sport. Rugby is a culture, can take you to new places, and bring into your life some amazing people that can become lifelong friends, or even like family. We've had several players earn their way to regional and conference select sides that has afforded them the ability to travel all over the country and the opportunity to play at a high level. This includes the Invitational 7's Tournament in Las Vegas and the College Rugby Championships in Philadelphia. While playing at Cal, and those various select teams, many of my girls made close, lifelong friends that they remain in contact with today. When my husband and I got married, more than half of our wedding party was made up of fellow ruggers who remain like family to us today. This concept is important and something that makes rugby much different than other sports.
Q. It's easy to look back on our playing careers and pick out the most memorable and rewarding experiences as athletes. What has been the most memorable and rewarding part of your coaching journey?
A. By far, the most rewarding part of my coaching journey has been witnessing the success of my club and several of my individual players. When you teach someone the game and quickly realize the potential that they have as an athlete, that really gets you excited about coaching them. Then when the light bulb goes off and the player begins to realize and utilize their potential, that's very rewarding to me as a coach. On a team level, we've been able to create a culture and atmosphere on our club to the point where young ladies want to join the rugby team and know that we play competitive rugby both in 15's and 7's. We are a club  looking to better ourselves on the field of play and in life as well. That has been the most rewarding thing for me… seeing my club and my girls progress forward as players and young adults.
Q. There are a lot of people who might be wary to become involved with rugby beyond stepping on the field as a player. What would you say to someone to encourage them to coach or become involved in some other way?
A. There are so many great and rewarding opportunities available to a person within the rugby community beyond playing. Many players retire from playing due to age, injury, or changing family dynamics. I feel a great, if not the best way, stay involved within the community is to become a referee, coach a side, or administrate at some level. If coaching seems too much or too intimidating at first, signing on as an assistant coach is a great way to get your feet wet. From an administration standpoint, being involved with your local senior side and serving on a committee or board is also a great way to get started before totally diving in. Just because you aren't able to continue playing doesn't mean you're done serving and growing the game!