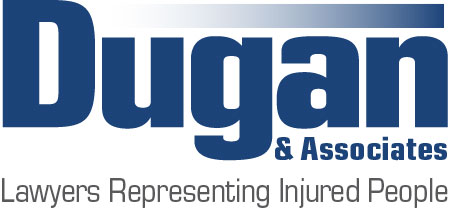 PITTSBURGH, PA – The Pittsburgh Forge Rugby Club, the city's newest and largest rugby club, are extremely pleased to announce our charitable sponsorship from Dugan & Associates, P.C., lawyers representing injured people, for the 2018 and 2019 Competitive Cycles.
Dugan & Associates, P.C. have been serving the legal needs of people throughout western Pennsylvania since 2000. The firm was founded by Mitchell H. Dugan. As a graduate of the University of Pittsburgh School of Law, Mitch first practiced at Fingeret, Pollock, Cohen & Zavarella, then at Stone & Stone and finally at Alexander J. Pentecost prior to starting his own firm in 2000. Additionally, he also interned in the Allegheny County District Attorney's office and with Zittrain & Zittrain. Mitch has spoken about injuries, workers' compensation and social security disability to audiences throughout the state, has presented for the Allegheny County Bar Association and has spoken for continuing legal education credits for lawyers with the National Business Institute, Clearwater Information Systems, Inc. and Sterling Education Services, LLC.
Mitch is a member of the American Bar Association, the Pennsylvania Bar Association, the Allegheny County Bar Association, the American Association for Justice, the National Organization of Social Security Claimants Representatives and the Western Pennsylvania Trial Lawyers Association. He is licensed to practice in the Pennsylvania State Courts and in the Western District of the Federal Courts. He also belongs to the North Boroughs Rotary Club where he served as a past President. Additionally, he has been awarded the honors of Super Lawyer from 2007 – 2017, considered a Top 50 Pittsburgh in 2011 – 2012, and a Best Lawyers from 2016 – Present.
Mitch and the accomplished team of attorneys, together with their friendly staff at Dugan & Associates, will work hard to achieve success for their clients. Much like the Pittsburgh Forge, Dugan & Associates approach legal problems as a team. Their lawyers possess wide-ranging knowledge on topics ranging from worker's compensation and occupational diseases to Social Security Disability and personal injury. No matter what legal problem you, or your family, may be facing, the lawyers at Dugan & Associates will combine their efforts to purse a favorable result for you. They offer every client personalized service and understand that when you are pursuing a denied SSDI benefit claim, or recovering from a car accident injury, your personal finances as well as your health and well-being hang in the balance. Please put their extensive skill and experience at work for you, to seek the results you need and deserve.
You can schedule a free initial consultation at any time by contacting them online at https://www.dugan-associates.com or by telephone at 412-353-3562 or toll free at 888-9-9-D-U-G-A-N.