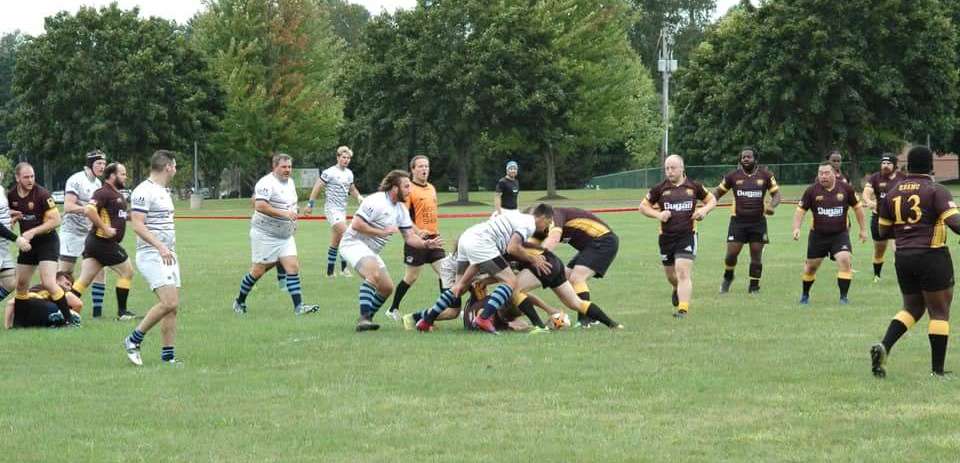 EDINBORO, PA – The Pittsburgh Forge men's D3 side traveled about two hours north to Edinboro, PA to take on the Presque Isle Scallywags in the first meeting for the organizations. The Forge was coming off a strong win against Greensburg two weeks prior while the Scallywags were opening their 2018 – 2019 season. The game was held as a feature event at Edinboro University's Highland games.
After several minutes of back and forth rugby and a slight delay due to the injury of a Presque Isle lock, Forge center Stephan Patterson (PITT) was able to open up the day's scoring, taking over from last game where he dotted down three tries. The score was converted by flyhalf Devin Zangaro (IUP) giving the Forge a seven nil lead at the twenty minute mark. The lead would be short lived, however, as Presque Isle was able to regain possession on the restart kick and drive down for a converted try of their own and tie the game at seven a piece.
Nearing the half, the Forge were unable to take advantage of a Scallywag in the sin bin at the thirty-two minute mark and even gave up a penalty kick of their own to go into the half down by three. Both sides made a number of tactical substitutions at the break before stepping back onto the field. Once again, the Scallywags would take advantage of a Forge penalty in their defensive zone and nail a penalty kick to extend the lead to six at the forty-two minute mark.
After more back and forth rugby for more than ten minutes, the Scallywags would be able to string some phases together and score their first try in thirty minutes. Center Jordan Heberle would add the conversion, giving himself thirteen points on the day, including the penalty kicks he nailed earlier.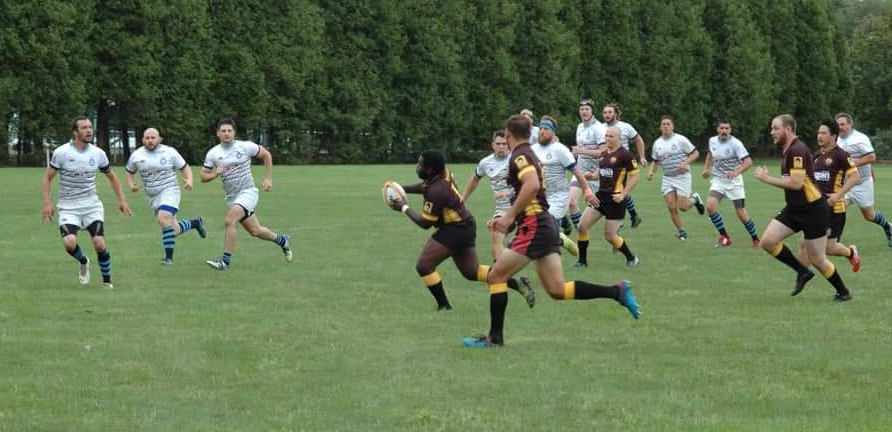 Down now by eleven, the Forge would put themselves in some peril when prop Jonathan Dutton (PITT) would earn a yellow card for a dangerous tackle at the fifty-six minute mark. The Forge played tough down a man, but with just one minute remaining on the card, Presque Isle would score a try, which was converted, to extend their lead to twenty with only fifteen minutes remaining.
Winger Nate Hoellman would find himself in the bin only three minutes after Dutton would return to the field, Hoellman also going in for a dangerous tackle. Even down a man, Stephan Patterson would find the try zone and Zangaro would add the conversion to chip away at the lead, but Heberle would answer with another penalty to bring the game to a close. The final score read Presque Isle 30 – Pittsburgh Forge 14.
LINEUP INFORMATION
First XV: 1 – Justin McCallister, 2 – Benjamin Carozza, 3 – Dan Andrus, 4- Roy Wotring (C), 5 – Jonathan Dutton, 6 – Nick Eritz, 7 – Percy Taylor, 8 – Bryce Markwardt, 9 – Nick Cardamone, 10 – Devin Zangaro, 11 – Nathan Hoellman, 12 – Stephan Patterson, 13 – Josh Robertson, 14 – Lawrence Wilson, 15 – Nutchapol Thepboon
Reserves: 16 – Kyle Porter, 17 – Paxton Thomas, 18 – Jackson Allen, 19 – Jurnee Wilson, 20 – Michael Franzone, 21 – Stephen Stasa
Substitutions: 40' – Porter for Carozza (TC); 50' – Allen for Andrus (TC); 65' – Franzone for Eritz (TC); 72' – Thomas for Taylor (IJ); 75' – Stasa for Wilson
Discipline: Jonathan Dutton (Yellow), Nathan Hoellman (Yellow)
Referees: Daniel Houlihan (ARURS)
SCORING INFORMATION
Tries: Stephan Patterson (4, 5)
Conversions: Devin Zangaro (2/2)
Man of the Match: Stephan Patterson (2)
Photo Credit: Presque Isle Scallywags Rugby Club