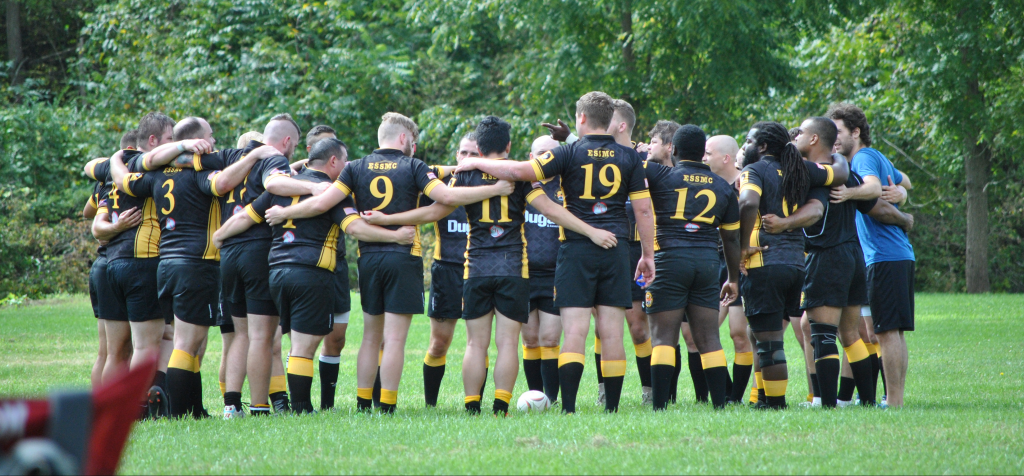 McDONALD, PA – Coming off a disappointing loss last week at the hands of the Presque Isle Scallywags, the Forge Men's D3 side looked to rebound and make a statement against crosstown rival South Pittsburgh. Over the past several seasons, the Highlanders have dominated the Hooligans, not losing to them since 2014. Pittsburgh, however, would split the series over that span, so the Forge looked to build on those successes this week in McDonald, PA about a thirty minutes southwest of the City.
After just a few minutes of feeling one another out, Forge lock Brandon Benvenuti, back from missing several weeks with a knee injury, opened up the scoring against South Pitt at the eight minute mark with his first try as a member of the Pittsburgh Forge. The conversion was made by Al Cochran (PITT). Just four minutes later, winger Nate Hoellman, would place down his first try of season, followed by center Corey Jacobs just two minutes after that. Both tries would go unconverted, by at the seventeen minute mark, the Forge had jumped out a 19 – 0 lead and South Pittsburgh appeared stunned.
Jacobs would add his second try of the day just five minutes later, this time being converted by Cochran before Nick Eritz (Cal U) would add his first try of the season at the thirty-one minute mark, also converted by Cochran. Fullback Devin Zangaro (IUP) would add a (converted) try near the end of half before a defensive breakdown would allow South Pittsburgh to score to end the half; the Forge led 40 – 5 at the whistle.
With a comfortable lead, Coach Allan Murray decided to begin emptying out his fully stocked bench beyond the two replacements he needed to make in the first half due to injury. At the half, tough forward Lance Reaghard was brought on for Benvenuti after Jurnee Wilson (Cal U) came on for the injured Nate Hoellman at twenty minutes and Nick Cooksey (Cal U) came on for Stephan Patterson (PITT) at thirty-nine. Right off the kickoff, the Forge would score again; this time number 8 Bryce Markwardt (SRU) would dot down a try and Cochran would add yet another conversion.  After an answer back try from South Pittsburgh at forty-five minutes, Reaghard would power for his second try in two matches and Cochran would make good on that conversion as well, extending the lead back out to forty-four points.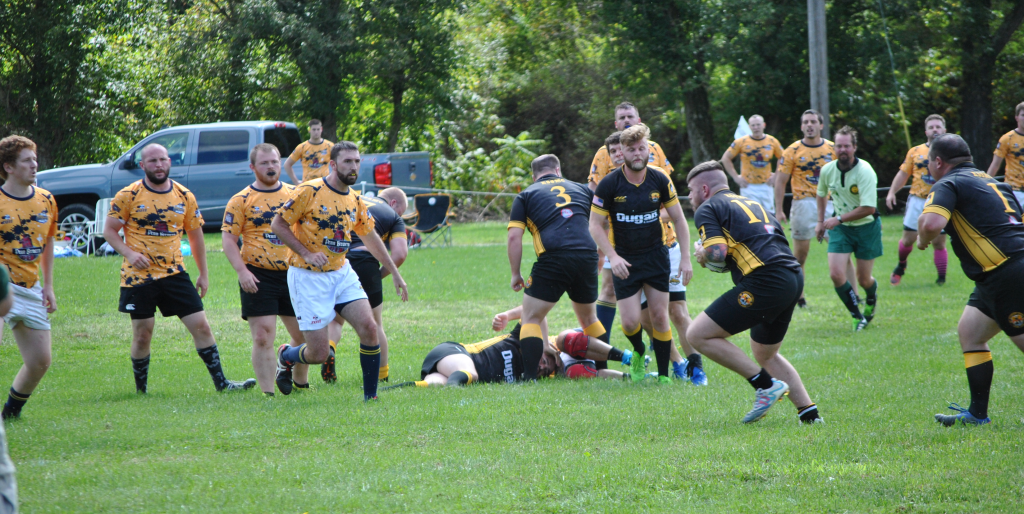 With the second frame more than half over and a sizable lead maintained, Coach Murray brought on youngsters Mike Franzone, Paxton Thomas and Stephen Stasa for Jacobs, Markwardt and Cochran, respectively. Shortly thereafter, tough veteran prop Justin McCallister (SRU) would go down with an injury and front row Ben Carozza wound enter the match with about ten minutes remaining. South Pitt would add two late tries, to no avail, with the final score reading Pittsburgh Forge 54 – South Pittsburgh 27.
With the win, the Forge D3 side improves to 2 – 1 in league play and remains in first place at the top of the table. South Pittsburgh falls to 1 – 1 and will travel to a tough Presque Isle side this upcoming weekend. For the Forge, they will travel to Greensburg and face the Maulers who they beat in week one by a score of 62 – 12.
LINEUP INFORMATION
First XV: 1 – Justin McCallister, 2 – Brett Albrect, 3 – Dan Andrus, 4 – Brandon Benvenuti, 5 – Jackson Allen, 6 – Nick Eritz, 7 – Percy Taylor, 8 – Bryce Markwardt, 9 – Nick Cardamone, 10 – Al Cochran, 11 – Nutchapol Thepboon, 12 – Stephan Patterson (C), 13 – Corey Jacobs, 14 – Nate Hoellman, 15 – Devin Zangaro
Reserves: 16 – Kyle Porter, 17 – Ben Carozza, 18 – Paxton Thomas, 19 – Lance Reaghard, 20 – Jurnee Wilson, 21 – Mike Franzone, 22 – Nick Cooksey, 23 – Stephen Stasa
Substitutions: 20' – Wilson for Hoellman (IJ), 35' Porter for Andrus (TC), 39' – Cooksey for Patterson (IJ), 40' – Reaghard for Benvenuti (TC), 62 – Franzone for Jacobs (TC), Thomas for Markwardt (TC), 68' – Stasa for Cochran (TC), 70' – Corozza for McCallister (IJ)
Discipline: None
Referee: Alex Gralia, ARURS
SCORING INFORMATION
Tries: Benvenuti (1), Eritz (1), Hoellman (1), Jacobs (2, 3), Markwardt (1), Reaghard (2), Zangaro (2)
Conversions: Cochran (7/8)
Man of the Match:  Nick Eritz (1)
Photo Credits: Paxton Thomas