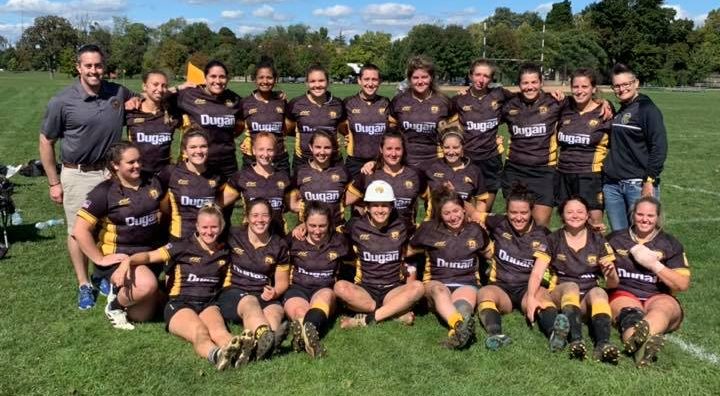 BUFFALO, NY – The Pittsburgh Forge traveled to Buffalo New York for their final in season away match against the well-established and competitive Buffalo Rugby.  The Forge was eager to provide the previously undefeated Buffalo Rugby with competition, stepping on the pitch with a desire to prove themselves to teammates and fans.
The game was fast paced, forcing each team to show their mental and physical strength as both clambered to stay ahead. Trys, conversions, and injury and tactical subs were abound in this battle; every five minutes of the game included at least one. The two teams traded tries for the first twenty minutes as Jessica Brewer, Carrie Dvorsak, Ashley Chipps(2) scored tries and two Maddie Miller conversions. The Forge scoring two unanswered as the teams went into the break leading 24-12.
Buffalo came back after the half with passion, scoring 3 back-to-back tries to steal the lead 31-24. The Forge, however, would not be out done.
"We let in three tries in eight minutes and had to fight back," Coach Jason Edsall said of the 31-24 deficit after 55 minutes. "The team culture took over, and the captains, the sidelines – everyone picked each other up. That was a great chance to fall apart, but it was all a positive message."
Within the next 10 minutes, Maddie Miller, Chloe Correia, and Olivia Lindsey were able to dig deep and answer back with each tries of their own. Following a Miller conversion, the Forge were, again, ahead 41-34. One final score at the last whistle would put Buffalo a conversion away from forcing a tie. The tying kick was missed wide, and game would end with the Forge victorious 41-39, maintaining their perfect record.
"Walking off the field, there was no Highlanders or Angels, just one team," Edsall said. "They saw a change in themselves. We just took down a team that went undefeated in the league for multiple years in a row, and they knew what an accomplishment that was."
Maddie Miller earned the most points for the team at 11 points for her successful conversions and her first ever 15s try.  Ashley Chipps followed closely behind with her two back-to-back tries. Jessie Brewer, Carrie Dvorsak, Chloe Correia, and Olivia Lindsey, along with aide from their teammates, pulled in the remaining tries to secure the win.
The Pittsburgh Forge enjoys a well deserved break in the upcoming week.  Their final game will be against Akron at home on October 13, and then the Midwest playoffs begin. The top-two teams from East Gold will face the top-two teams from East Green, and then the East victor will face the West champion.
Check out our write-up from The Rugby Breakdown!
LINEUP INFORMATION
First XV: 1 – Kristen Smock, 2 – Kirsten Andrews, 3 – Bobbie Kolarik, 4 – Chelsey Mitchell, 5 –Nicole Beswick, 6 –Dana Zimmerman, 7 – Carrie Dvorsak, 8 – Ashley Chipps, 9 – Chloe Wickstrom, 10 –Olivia Lindsey, 11 – Maddie Miller, 12 – Shannon Connolly, 13 – Hannah Zibert, 14 – Chloe Correia, 15 – Jessie Brewer
Reserves: 16 –Mackenzie Dirlam, 17 –Holly Ramey,  18 – Kathryn McGuire,  19 – Gerri Russell,  20 – Megan Zimcosky,  21 – Jessica Brown,  22 – Alexa Brightman,  23 – Holly Kendall
Substitutions: 18′ – McGuire for Kolarik
Discipline: Buffalo Team (Y)
Referee: Unknown
SCORING INFORMATION
Tries: Brewer (1), Dvorsak (1), Chipps (5, 6), Miller (1), Correia(4), Lindsey(5)
Conversions: Miller (3/7)
Player's Player: Olivia Lindsey