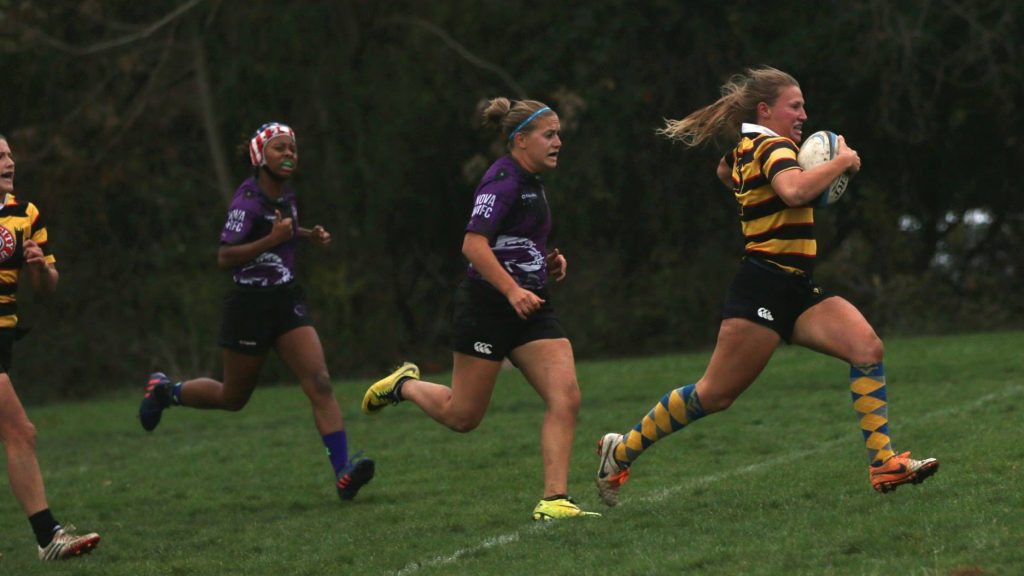 The first spotlight in our new Member Spotlight Monday series is a well-known figure in the Pittsburgh rugby community and has been a longtime member of our rugby family – Jaime Filipek. Jaime, also called "Boo" by those who've shared the field with her, is most well-known for her never-quit attitude and infectious love of the game.
Jaime obtained her undergraduate degree from West Virginia University in 2007, and having grown up in the Pittsburgh area, returned home to obtain her Master's degree at the University of Pittsburgh. She has been working at PUMP since 2013 and is currently serving as their Program Development Manager.
She suffered what would have been a career ending injury during the 2015-2016 season with the Angels, and after taking the necessary time to rest and recover, spent a year as their Head Coach during the final season for the team. In 2018, the Forge women were lucky to have Jaime come out of retirement to take the field with them during their first season as a new club.
We were able to catch up with Jaime to chat about her rugby experiences and hear about a neat event she organized coming up in June – here's what she had to say!
Q. Can you give us a brief introduction and tell us about your playing experience with Pittsburgh Rugby?
A. My first experience with Pittsburgh Rugby was when the Angels coached my high school rugby team – Schenley – beginning in 1999. I couldn't wait to come back and play with them after high school and college! I started playing for the Angels in 2007 when I moved back to Pittsburgh from WVU and played with them through the Spring of 2016. During that time, I was privileged to act as Captain from Fall 2009 through Spring 2016. We were fortunate to be very competitive during that time and in addition to winning two National Championships we also placed 2nd in two National Championship Competitions and 3rd in two National Championship Competitions. I came out of retirement to play with the Forge for their inaugural season and have had a blast playing again!
Q. You've had a pretty impressive journey since you started playing rugby when you were younger. When you picked up a ball the first time, did you ever think rugby would shape your life as it has?
A. My first game was so confusing so probably not! It was the first ever U-19 women's game in Western PA. We got the hang of it pretty quickly though and I really fell in love with the sport! We got to do some cool trips to play throughout the Midwest since we ended up having a pretty solid high school team and I think that helped to hook me too, as I had a chance to really experience some of the rugby culture.
Q. How have your experiences with rugby shaped the message you try to share with others through your work with Pittsburgh Sports League and the PUMP program?
A. I passionately believe that rugby, and all sports, have the capacity to enrich our souls and build our confidence and self-esteem. It is so organic in a team setting that you don't even realize the impact that it is having on other parts of your life. It builds character to be on a team and that character makes you better at your job and in your personal life. My job with PUMP and the PSL is basically to make sure that people have an opportunity to play and that when come out they have fun. Rugby has taught me a lot about the gratitude and simplicity that it is to be able to compete as an adult in recreational sports. It gives people a healthy outlet to be present, fit and to experience new areas of Pittsburgh, and new people. I would never have had the opportunity to apply for my job without rugby, and I wouldn't have my best friends in life without rugby. It has absolutely helped to mold me into the person I am, and I try to share that passion in my job, with new ruggers and in PUMPed to Run.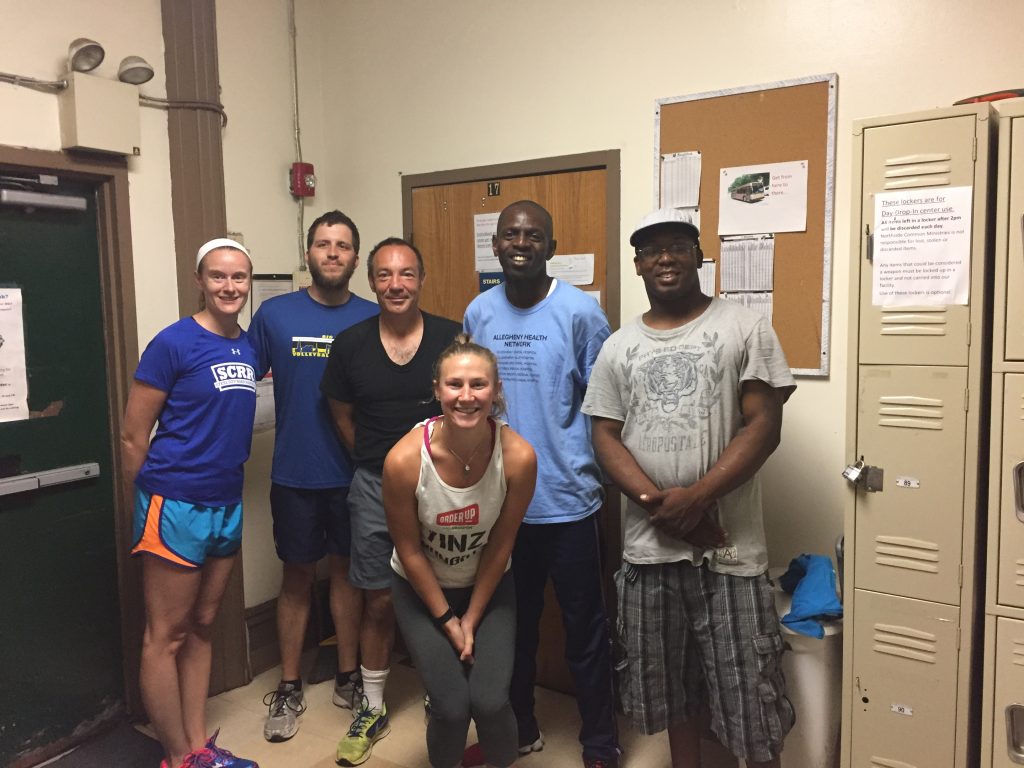 Q. You have an upcoming event on June 9th – can you tell us a little about it?
A. On June 9th at 8:00 am we have a 5k that benefits our PUMPed to Run program. PUMPed to Run works in local area homeless shelters to give marginalized populations in Pittsburgh the opportunity to exercise with a team mentality. PUMPed to Run has been a passionate program that I helped develop in 2016 and have continued to lead ever-since! Proceeds for the 5k go to purchasing running shoes and gear for all participants so there are no barriers to their athletic desires, and they can compete safely. The 5k will take place in Highland Park. All registrants will receive a t-shirt, fruit, water and baked goods. You can register for the event here.
Q. Are there any ways for people to become involved or support your program in addition to registering to participate in the upcoming 5K?
A. We are always looking for mentors to run with our participants. We also always need new or lightly used clothing and running shoes – we are in special need of XL and larger sizes currently. You can learn more about those opportunities here.
Q. If there was someone who might be considering joining rugby for the first time or any other fitness or exercise activity but is nervous about it, what piece of advice would you share with them?
A. To try and relax and enjoy it! It's okay to have no idea what is going on, I think just going for it and avoiding hesitation will set people up for success. Knowledge of the game will come and ask questions – it is the best way to learn! Especially with rugby, everyone is eager to help and welcome new players to the game.
Social Media Links
https://www.instagram.com/pumpedtorun/
https://www.facebook.com/events/2378408922190514/