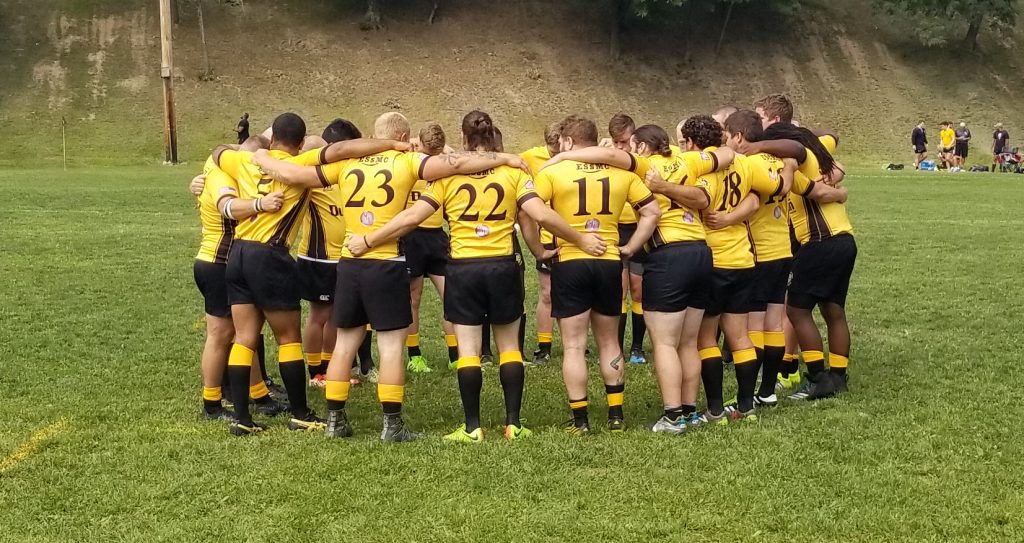 MT. PLEASANT, PA – After a big time win the previous week against South Pittsburgh, the Forge Men's D3 side looked to continue to build momentum as they move closer to Midwest Playoffs. This weekend they would be traveling to Greensburg for a return match after Greensburg traveled to Pittsburgh to open the 2018 league season. The Forge D3 side won the first match by a score of 62 – 12.
Prop Dan Andrus would get the scoring started at the eight minute mark with Al Cochran (PITT) hitting the conversion. A few minutes later, the Forge were able to swing the ball to winger Yhong Thepboon for his first try as a member of the Forge to put the club up 12 – 0. At the fifteen minute mark, Greensburg was able to add a converted try, but just two minutes Roy Wotring would add his first try of the season before the scoring would slow down a bit.
The defenses tightened up on the narrow field for the next twenty minutes or so before Corey Jacobs would add his fifth try of the season at the thirty-five minute mark followed by last week's man of the match, Nick Eritz (Cal U) with his second try in two weeks at the thirty-nine minute mark. The Forge would take a commanding 29 – 7 lead at the half.
The Forge would continue to pour on the scoring in the second half. Stephan Patterson (PITT) was able to touch down his sixth try of the season at the forty-five minute mark and the conversion was nailed by Cochran. With the lead comfortable, Coach Allan Murray would once again be able to bring in quality reserves from his bench. First would be forward Mike Boyd (Cal U) for Wothring followed by crafty scrumhalf Nick Cardamone (SRU) for Stephen Jochim (Juniata) and Kyle Porter for Andrus.
Hooker Brett Albrecht would add his first try of the season at fifty-one minutes, conversion by Cochran, followed by Mike Boyd at the fifty-seven minute mark. Patterson would come off to get some running for rookie Mike Franzone, but the Forge would not slow the pace. Nick Cardamone would break free for his second try of the season before Greensburg would add another try shortly thereafter to bring the score to 58 – 12 with about twenty minutes remaining in the game.
Center Corey Jacobs would set down his third try of the day at sixty-five minutes and Coach Murray would bring on his final two reserves to close out the day. To close out the day, Cardamone would add his second, fullback Devin Zangaro (IUP) would add two tries late followed by winger Jurnee Wilson (Cal U) as time expired. After the final conversion by Cochran and the final whistle, the score read Forge 91 – Greensburg 12.
LINEUP INFORMATION
First XV: 1 – Justin McCallister (C), 2 – Brett Albrecht, 3- Dan Andrus, 4 – Roy Wotring, 5 – Lance Reaghard, 6 – Nick Eritz, 7 – Percy Taylor, 8 – Charlie Cross, 9 – Stephen Jochim, 10 – Al Cochran, 11 – Yhong Thepboon, 12 – Stephan Patterson, 13 – Corey Jacobs, 14 – Jurnee Wilson, 15 – Devin Zangaro
Reserves: 16 – Kyle Porter, 17 – Ben Carozza, 18 – Nick Hebert, 19 – Mike Boyd, 20 – Nick Cardamone, 21 – Stephen Stasa, 22 – Mike Franzone
Substitutions: 45' – Boyd for Rotwing (TC), 50' – Cardamone for Jochim (TC), Porter for Andrus (TC), 57' – Carozza for Albrecht (TC), 65' – Stasa for Thepboon, 67' – Hebert for Ertiz
Discipline: None
Referee: Alex Gralia, ARURS
SCORING INFORMATION
Tries: Albrecht (1), Andrus (1), Boyd (1), Cardamone (2, 3), Eritz (2), Jacobs (4, 5, 6), Patterson (6), Thepboon (1), Wilson (1), Wotring (1), Zangaro (3, 4)
Conversions: Cochran (7/14), Zangaro (1/1)
Man of the Match: Lance Reaghard (1)