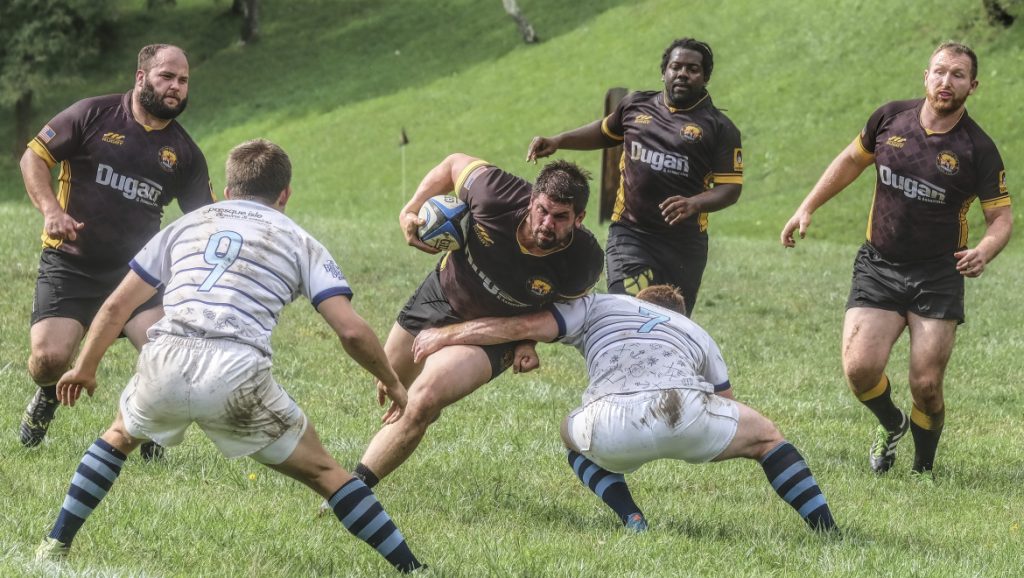 PITTSBURGH, PA – After spending nearly a month straight on the road, the Forge men were thrilled to be back home and to get a crack at exacting some revenge for their only loss of the season, a 30 – 14 loss against the Scallywags in Edinboro, PA on September 8th.
The Forge started quickly with flyhalf Al Cochran (PITT) feeding center Josh Robertson (SRU) with a nice ball through a hole and into the try-zone at the six minute mark of the game. Cochran was able to add the conversion and things were looking bright for the Forge. The Scallywag defense would tighten up however and prevent this game from being a shoot-out.
At twenty four minutes, the Forge would be threatening again deep inside the Scallywag defensive zone, but Presque Isle was able to pounce on a quick turnover quickly carry the ball down field for an unconverted try from their outside center. Then, just four minutes later, Forge lock Roy Wotring would go to the sin-bin for a high tackle and the Forge were on their heels a bit down a man and facing some Scallywag momentum. The Forge would play stout defense with only fourteen men and even get a brilliant score from scrumhalf Nick Cardamone (SRU) who was able to slice through the Presque Isle defense on his way to a long try that would put the Forge up by nine after the Cochran kick at the thirty-two minute mark.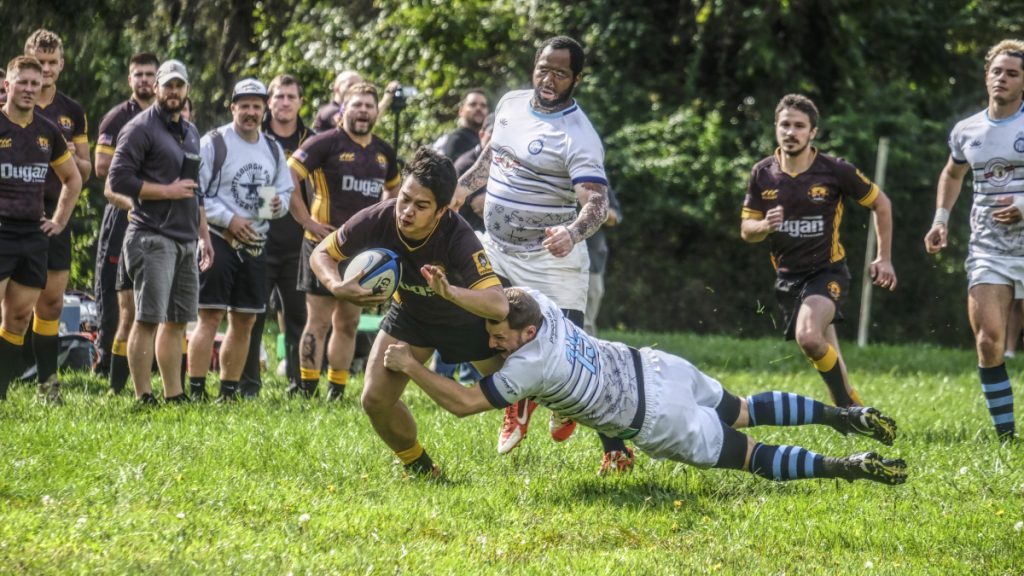 Wotring would get back into the game with no damage inflicted, but a bad luck play again deep in Scallywag territory, the kind of play the Presque Isle loves, would shift momentum again and give the Scallywags life as similarly to their first try, the outside center would scoop up a turnover ball and carry it eighty-meters to the try zone once again to bring the score at half 14 – 12 Forge.
Coach Allan Murray would make a number of half time adjustments including bringing in talented center Corey Jacobs, utility player Bryce Markwardt (SRU) and tough prop Justin McCallister (SRU). It took only seven minutes for those adjustments to pay dividends as Jacobs was able to power his way to his seventh try of the season and give the Forge a 21 – 12 lead after the Cochran kick.
For the next twenty-five minutes, Presque Isle would threaten but the Forge defensive effort was strong lead by eighth man Mike Boyd (Cal) and then his replacement David Gregg (IUP); flankers Nick Eritz (Cal) and Jackson Allen; the fantastic boot of Cochran; and the superb three quarters play of winger Jurnee Wilson (Cal).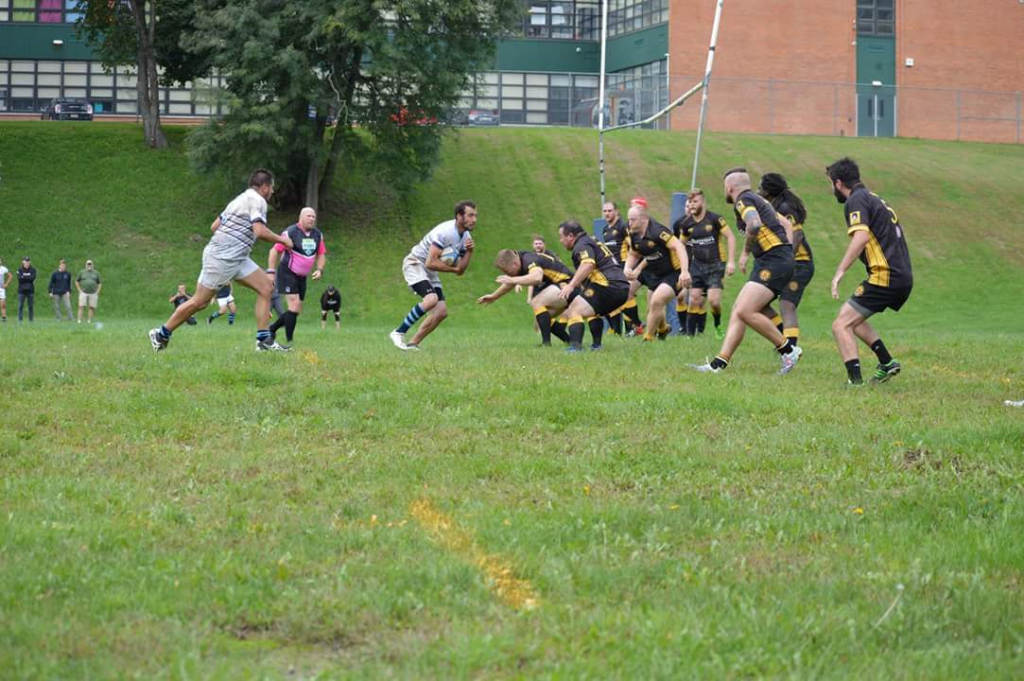 Finally, at the seventy-minute mark, Presque Isle would finally break through and touch down a try, but it would be too little too late. At the final whistle, the Forge defeated their foes from the north, 21 – 17.
LINEUP INFORMATION
First XV: 1 – Percy Taylor, 2 – Brett Albrecht, 3 – Dan Andrus, 4 – Roy Wotring, 5 – Charles Cross, 6 – Nick Eritz, 7 – Jackson Allen, 8 – Mike Boyd, 9 – Nick Cardamone (C), 10 – Al Cochran, 11 – Jurnee Wilson, 12 – Josh Robertson, 13 – Mike Franzone, 14 – Stephen Jochim, 15 – Yhong Thepboon
Reserves: 16 – Bryce Markwardt, 17 – Justin McCallister, 18 – David Gregg, 19 – Eric Kress, 20 – Stephen Stasa, 21 – Corey Jacobs, 22 – Paxton Thomas, 23 – Ben Carozza
Substitutions: 41' – Jacobs for Franzone (TC), Markwardt for Jochim (TC), McCallister for Andrus (TC), 57' – Gregg for Boyd (TC), Kress for Wotring (TC)
Discipline: Wotring, Yellow (1) – High Tackle
Referee: Mark Seaton, ARURS
SCORING INFORMATION
Tries: Cardamone (4), Jacobs (7), Robertson (1)
Conversions: Cochran (3/3)
Man of the Match:  Jurnee Wilson (1)