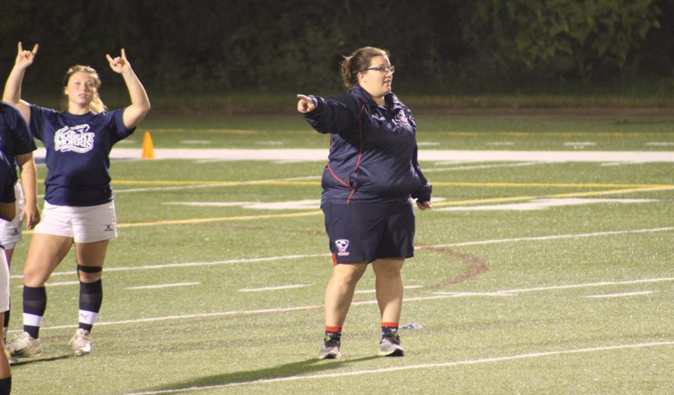 The third spotlight in our Member Spotlight series is someone who works tirelessly with unwavering enthusiasm and passion to provide opportunities to grow the game and advocate for our sport – Angela Smarto.
Angela graduated from Penn State University in 2012 with her undergraduate degree in Secondary Education & Teaching and has since obtained her master's degree in Special Education and Teaching from Point Park University. In addition to her full-time position at the AIU Alternative Education Program, Angela manages to find the time to serve as the ARU College Coordinator, Coach and Manager for the ARU Women's Select Program, and head coach for the Robert Morris University Women's Team.
While her rugby resume is both long and impressive, it's important to highlight that Angela also served as the Pittsburgh Rugby Club's last President and played a vital role in the successful merger and formation of our very own Pittsburgh Forge.
We were lucky to catch Angela with some free time in her jam-packed schedule to learn more about her rugby experiences as both a player and a coach. Here's what she had to say…
Q. Can you give us a brief introduction and tell us about your playing history and experiences with Pittsburgh Rugby?
A. I began playing in college at Penn State University which happens to be the most storied collegiate women's rugby program in the country. There I was on three DI national championship teams, and two DI National Runner – Up teams. After I graduated and moved home, I joined the Pittsburgh Angels at the height of their competitive history. We won back to back DII National Championships in 2012 and 2014. We made the move to DI and had an inaugural undefeated DI regular season and made it to the Club National Semi-Final match. In that time, I also became an admin of the club revamping Steel City 7s, starting the annual Golf Outing, and being the official last president of the Pittsburgh Rugby Club before our merger in 2018.
Q. The transition from player to coach seems to be the natural progression for many as they continue their rugby careers. What motivated you to first make this jump?
A. When studying to become a teacher you are required to have a certain number of hours working with youth. There was a call from the local State High Girls Rugby team to the PSU team for some assistant coaches for the season. We were all encouraged by our coaches because they said being a coach would help us be better players. The opportunity was too perfect to pass up so beginning my sophomore year of college I was an assistant coach. I received my required hours in the first season, but I enjoyed it so much I stuck around for four more years. I am lucky that coaching opportunities continued to present themselves to me over the last decade.
Q. Many players can identify one specific person (whether that be a coach or an influential teammate) that had a significant impact on them. Who is that person for you and what lesson did they teach you?
A. Not a person, but the one and only Penn State University Women's Rugby Club (PSUWRFC affectionately) has forever changed my life for the better. Not only did they introduce me to this great sport, but the values to be a leader among my peers. They taught me how to set goals, be bold, take risks, and to achieve. I truly can't imagine my life without every player and coach involved in the club that so many of us alumnae hold so dearly.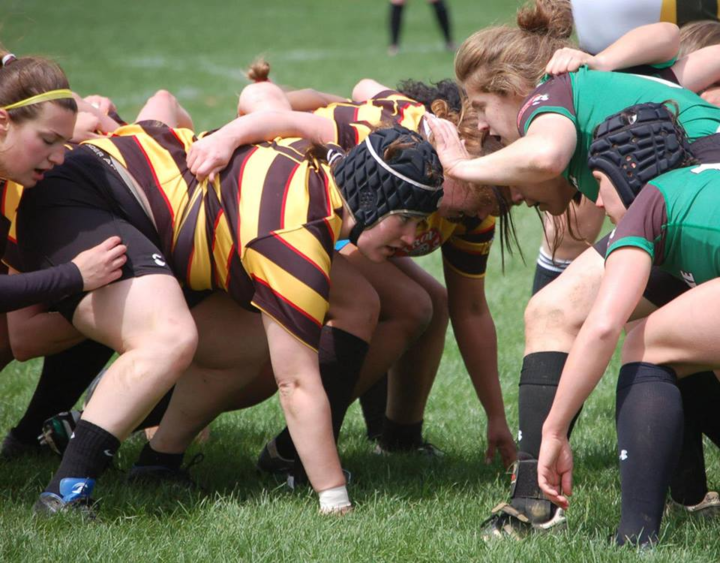 Q. One of the best things about the sport and community of rugby is that it has so much to offer beyond the outcome of each game. Can you tell us a little about the team(s) you currently coach and the messages you try to instill in your players?
A. In 2013 I received a phone call from a college freshman at Robert Morris University who played rugby in high school and wanted to keep playing college but there was no team to play on, so she asked if I'd be the coach of this new team. I agreed and since then I have coached over 100 women through the program in 15s and 7s seasons. Working with college players is really fun because you get to help them turn them into adults. I always stress time management skills, personal responsibility, and building lifelong friendships through enjoying the game together. If you ever come to practice, you'll see this in action because we spend a lot of time laughing. We know when to be serious and when we can be a little less serious so we can always enjoy ourselves on and off the field.
I also started the Allegheny Rugby Union Women's Select Side program in 2017 to offer all-star opportunities to our region's best. It was a disservice to our local players to not give those deserving a chance to test their skills at a higher level than their regular season play. I asked some of my best rugby friends to join me, so we created an all-female coaching staff to run this endeavor. We believe in the power of leading by example and many of our players are coached by men, so we need to be the example for the future of women's rugby. The goal is if players see us coaching, reffing, being admin, running tours, organizing training and so on that they will see us and believe that they could do it too. I'm happy to report that several of our players have not only continued in the program and reached higher levels of playing, but a few more have becomes certified coaches and referees and we like to think we've had a little bit to do with that.
Q. It's easy to look back on our playing careers and pick out the most memorable and rewarding experiences as athletes. What has been the most memorable and rewarding part of your coaching journey?
A. There isn't one that's any more important than the other. When I think of where I started to where I am now it's rewarding to know that I've had the privilege to share rugby with so many young women. I've seen some on field success, but the stories that come up over and over again are all the funny moments. Like side splitting moments. My high school team made t-shirts with all my coach-isms with classics such as, "I will make you run home". My college team made in into a meme to get people to practice. I've driven hundreds of miles, stopped at every Sheetz in Western PA, and drank my weight in caffeine every long weekend and I wouldn't trade it for any other experience. This year I had my first college player transition to a senior club team, two players begin coaching, and another get certified as a ref. To me that was a big milestone because I've made rugby a part of their life not just a thing they did in college. You don't have to be the best to stay in the game but seeing two former players earn caps against the Black Ferns in Soldier Field last fall was pretty cool too.
Q. There are a lot of people who might be wary to become involved with rugby beyond stepping on the field as a player. What would you say to someone to encourage them to coach or become involved in some other way?
A. I've always seen rugby as a place of service. There are unlimited ways to serve so whatever time you have to give someone will find something for you to do. It's ok to be a rookie again – a vet coach/ref/admin will help you learn new skills the same way you learned as a player.