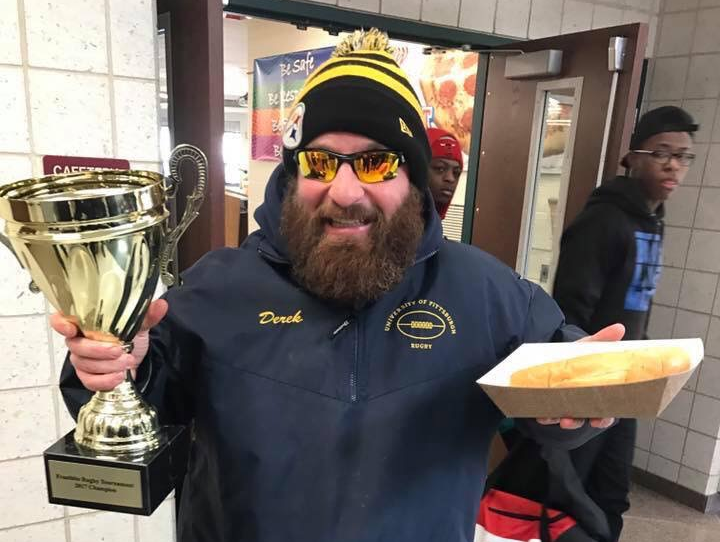 For the fourth spotlight in our Member Spotlight Monday series, we focus on a long-time club member Derek Neubauer. Derek, a ten-year member of the club, has been coaching the University of Pittsburgh Men for the past several years while remaining an active player for the Forge and a referee. We found a few minutes to catch up with him and ask about his experiences…
Q. Can you give us a brief introduction and tell us about your playing history and experiences with Pittsburgh Rugby?
A. I started playing rugby in Pittsburgh with the Highlanders right after college before I left for a job in New York City. Upon my return to the area in 2009, I began playing for the Pittsburgh Rugby Club until presently with the Forge.
Q. The transition from player to coach seems to be the natural progression for many as they continue their rugby careers. What motivated you to first make this jump?
A. I had graduated from Slippery Rock and was living only 5 miles from campus, when current players asked me to coach since I wasn't willing to drive the hour plus to practice and play. I thought it was a good way for me to stay involved while not really being able to play.
Q. Many players can identify one specific person (whether that be a coach or an influential teammate) that had a significant impact on them. Who is that person for you and what lesson did they teach you?
A. For the first 5 years I played, we never had a coach so there were a lot of people that played in high school that were coached that I learned a lot playing with. One person in particular was Brian Beauregard, he came from the Doylestown High School program and probably had more rugby experience when I met him than I had in any other sport. He brought so many little nuances of the sport that it took mine and are entire teams' game to a different level. You could tell he was coached quite a bit and what he brought to us only made me look into the game harder to see what else I could find out.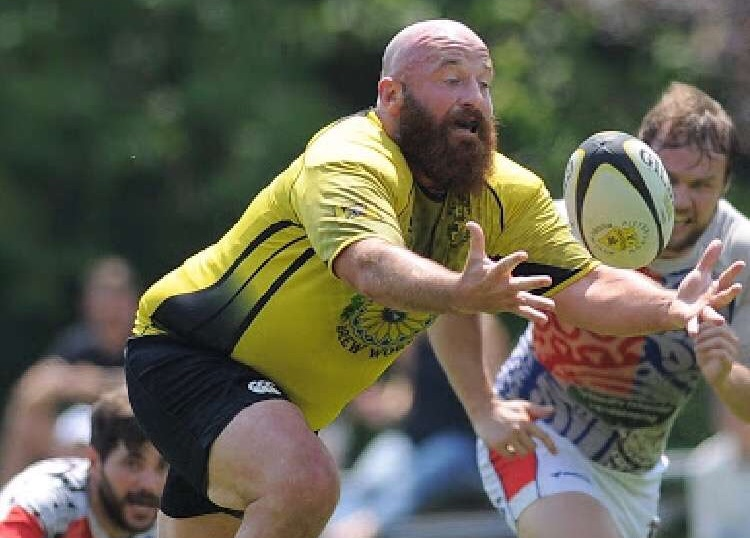 Q. One of the best things about the sport and community of rugby is that it has so much to offer beyond the outcome of each game. Can you tell us a little about the team(s) you currently coach and the messages you try to instill in your players?
A. I currently coach the University of Pittsburgh Men's Rugby Club and really just try to instill in them to be the most knowledgeable player they can be and that rugby is a game that can be played after college so if you can do it past college you should.
Q. It's easy to look back on our playing careers and pick out the most memorable and rewarding experiences as athletes. What has been the most memorable and rewarding part of your coaching journey?
A. Playing wise – Without a doubt it was the Pittsburgh Rugby Clubs playoff run in 2012. We had to travel by plane to Chicago then Des Moines Iowa to still drive another 3 hours to play Bremer County in the first round of the playoffs. The game went to two 10-minute overtimes with us winning eventually by 8 points. Then two weekends after that we traveled back to Chicago and beat the Cleveland rovers coming back and scoring three tries in the last 10 minutes to book our trip to nationals.
Coaching wise – Honestly my most rewarding part of coaching is playing with all the players that I have coached in the past. It's great to see them grow as players and hopefully use the skills that I may have had in helping them develop. Also, it has come to the point where I have coached players that are now out of playing and seeing them continue in the game either by reffing or coaching themselves.
Q. There are a lot of people who might be wary to become involved with rugby beyond stepping on the field as a player. What would you say to someone to encourage them to coach or become involved in some other way?
A. If you truly love the game then you will get involved past your playing days, if you need encouraged to do it, then it will be for the wrong reasons.