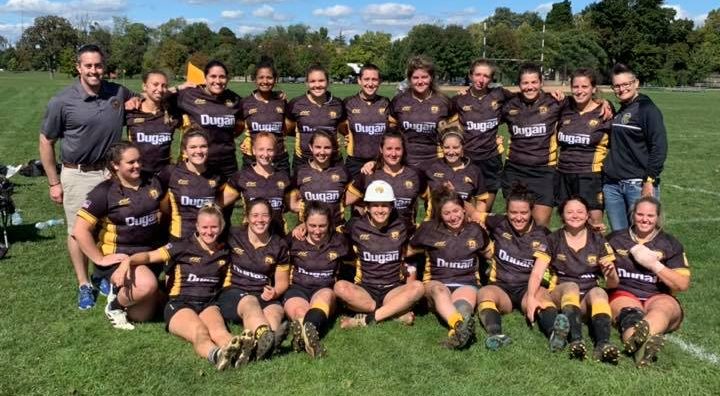 PHILADELPHIA, PA – This Saturday, the Forge women begin their second competitive season with a scrimmage in Philadelphia. The women are slated to play against the D1 side of the Philadelphia Women's Rugby Football Club (PWRFC) in what is sure to be a challenging, fast-paced, physical match.
Last fall, during the club's inaugural season, the Forge women were able to maintain an almost entirely undefeated record. The team lost only to Buffalo Rugby in the second round of the East Gold playoffs.
PWRFC and the Forge have met before. This past spring, the Forge were victorious over the well-established PWRFC in another friendly match. This upcoming scrimmage will be a platform to work out future lineups, positions, and other logistical questions that have pegged the team in the off-season. The team has been fortunate to have many new faces at practice, and this Saturday will give the coaching staff an opportunity to truly gauge the depth of the team.
Morgan Haggerty, a member of the team's leadership group, expressed her positive outlook on the upcoming match.
"We have a ton of experienced returning players and many promising new players. I am excited to see the potential unfold and it all starts with our first scrimmage this Saturday."
Mackenzie Dirlam, another member of the team's leadership group, expressed similar enthusiasm.
"I am just excited to play for and with the amazing group of women we have, and I cannot wait to see what the season holds for us!"
Captain Chelsey Mitchell shares a similar sentiment.
"The team as a whole has a determined mindset that I'm confident will boost the play on the field, friendships off the field, and steer us toward a winning season," Chelsey stated.
Stay tuned for the results of the upcoming scrimmage. The Forge's full schedule can be found below:
9/7: Forge @ Philadelphia (non-league)
9/14: Forge @ South Buffalo
9/21: Forge v. Cleveland Iron Maidens
9/28: Forge @ North Buffalo
10/12: Forge v. Buffalo WRFC (Forge Day)
10/19: Forge @ Akron